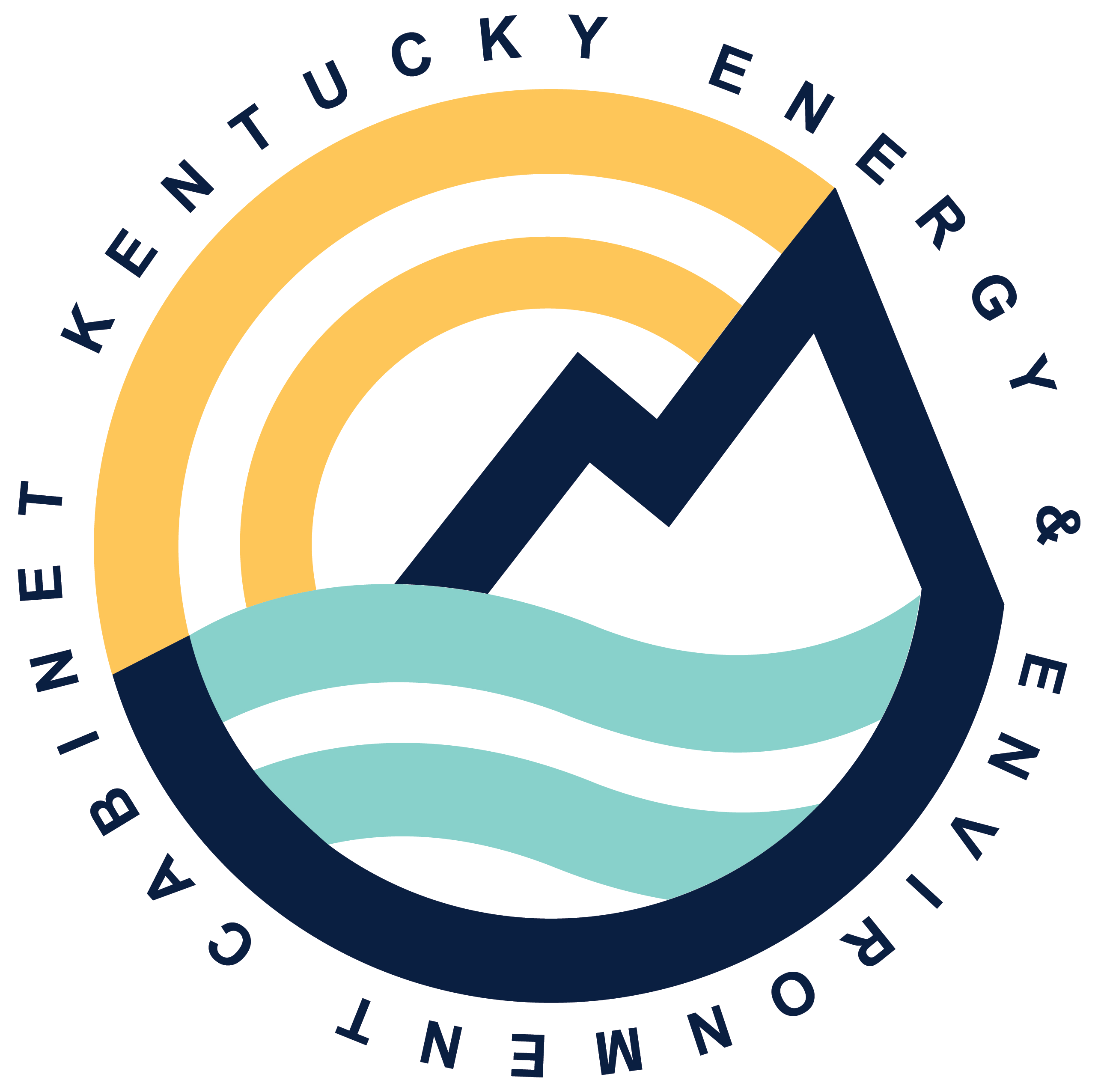 Kentucky Coal Resource Information

auto-resize tabs
Kentucky Coal Resource Information
This website contains data and maps pertaining to 17 of Kentucky's most productive coal beds. In 2014, remaining coal resources greater than 28 inches thick were estimated for these beds by subtracting mined areas from previously established estimates of original coal resources. Significant resources less than 28 inches thick remain in these beds, but are generally not economically recoverable, and therefore are not tabulated in remaining resource tables. However, the extent of these thinner resources are shown on the original resource maps for each coal bed. Also, other coal beds of lesser magnitude occur in the state but could not be included in this study due to time constraints. As such, the data presented here are minimum estimates of remaining coal.
Total original resources greater than 28 inches thick for the 17 beds are estimated to be about 40 billion tons. As of 2014, 25.7 billion tons, or 64% of the original resource remain.
The purpose of the website is to show the magnitude and geographic distribution of coal resources with potential for future development. Estimates of remaining coal shown on this site are believed to be an available resource, but no analysis has been done to determine whether the deposits are economically recoverable under specific market conditions or if there may be other restrictions to mining. Previous studies of coal availability and recoverability suggest that between 20 percent and 50 percent of remaining coal may be economically recoverable.
Please read "How to use this website" below before beginning.
Download and view a Powerpoint presentation about this website from the 2014 Kentucky GIS Conference, presented by Doug Curl: Link to Powerpoint.
Click the "Start Here" menu tab below to begin...
Resources by County Resources by Coal Bed
Select a county to view coal resource information. Once selected, the map will zoom to that county and display the coal resource layers and data.
Select a county:
(* counties are those with available coal bed resource estimates)
Sources of data for determining original coal resources are measurements of coal bed thickness from outcrops, mines, and drill holes on file at KGS. Isopach maps of total coal thickness (less partings) were prepared by posting the data on base maps and hand contouring lines of equal thickness in 14-in increments. Coal bed outcrop extents for each bed were digitized from 1:24,000-scale geologic quadrangle maps, and intersected with coal thickness maps and county boundaries to create final resource maps. Tonnages for each resource area were calculated using the average density conversion of 1,800 tons per acre/foot of coal.
Mined areas were downloaded from the Kentucky Mine Map Information System in July 2015.  Mine polygons were buffered 200 ft to eliminate interior, unmined barrier pillars and to establish a safety barrier surrounding each mine. Each modified mine extent layer was then intersected with the original coal resource map to identify areas of remaining coal. 
This website has two frames. The left hand frame contains coal resource information organized in tabs and tools for visualizing and downloading related data of interest. The right-hand frame contains a scalable map to view the geographic location of coal deposits and the data used to characterize them.
The site has two modes of inquiry - all data for a county or all data for a single coal bed. First, click the "Start Here: Select by County or Coal Bed" tab above to view data by county or by coal bed. For information about coal resources for a single county, click the "Resources by County" button and select the county of interest from the pulldown menu. The map will zoom to the extent of the selected county and display active surface and underground coal mines. Coal resource information is provided for all beds assessed within that county.

For information about a single coal bed in all counties, click the "Resources by Coal Bed" button and select one of the beds from the pulldown menu. The map will zoom to the full extent of the bed showing original coal resources by thickness categories, mined out areas, and locations of measurement data.
Map Controls
To zoom in or out use the tools on the right side of the map or rotate the roller ball on the mouse. To pan the map, click and hold the left mouse button and move in the direction you want the map to move.
To identify features on the map, click the left mouse button with the pointer over the feature. If more than one feature is identified, the info dialog will show (1 of N) in its title bar. To see each feature's information, click the right or left arrow in the title bar. As the page changes, the associated feature will be highlighted on the map.
Click the Map Setup button to turn on or off selected layers or to change the transparency of a layer. Click Switch Basemap to change the style of the base. This tab also provides print services. To hide the Map Setup dialog, click its title bar.
Click the Legend button to see an explanation of symbols that are used on the current map display.
This map displays sites, such as power plants and preparation facilities from the Kentucky Energy Infrastructure map service. For complete information about those sites, a link to that service is provided on the Map Setup window.
Resource Estimates Tab
This tab shows remaining resources by coal bed and thickness category.

County View. The "county" table can be configured to show only bed totals or sub-totals by thickness category. To view the map extent of any resource category, click on the corresponding row in the table. To display the original resource map for any bed, click the radio button next to a row for that bed. Use the transparency control to adjust the remaining resource areas to view the underlying original resource layer. Click "Resource Chart" to view a pie chart of the single county tabular data. To see the distribution of remaining resources for all beds, click the checkbox next to "Display Extent of Estimated Remaining Resources by Thickness (for assessed coals)".

Bed View. The "bed" table shows resources by thickness category for all counties containing the selected coal. Total remaining resources are shown above the resource table. To zoom to a single county, click the row in the table with that county name. To view a stacked bar chart of the bed resource data click Resource Chart.
Production Data Tab
Annual coal production data were compiled from the Kentucky Office of Mine Safety and Licensing annual reports. Tables in this tab only show total production by county and mine type since 1970. To search all historical coal production click the link above the displayed graphs. To obtain production from specific coal mines, select the "Resources by Coal Bed" view, choose the appropriate coal, and click on a mine area. On the pop-up "info" dialog, click on the "Report" item under Data Links. Click on "Maps" to access scanned mine maps for the mine.
Data Tab
This tab provides free downloads of all coal resource measurement data related to the map view. These data include thickness measurements, coal borehole data, and coal quality data. In "County" view, only records for the selected county and view extent will be returned. In "Bed" view, only records for the selected bed in the current view extent will be returned.
Publications Tab
This tab provides access to selected publication bibliographies for topics related to coal resources. Most of the titles can be downloaded from the KGS website, otherwise can be ordered for a nominal charge.
This work was performed by staff and students at the Kentucky Geological Survey. Funding for compiling coal information and assessing coal resources was supported, in part, by grants from the U.S. Geological Survey under the following programs:  National Coal Resource Data System Coop, Coal Availability and Recoverability, National Coal Quality Inventory, and National Coal Resource Assessment.
No county or coal bed selected - no resource estimates yet!
Display resource estimates by selecting a county or coal bed from here:
Start Here: Info tab -- "Select by County or Coal Bed" menu
and resources estimates for the selected county or coal bed will be displayed here once the search is completed.
This tab provides free downloads of all coal resource source data related to the map view. Click a button below to view and download borehole, thickness, or quality data for the current viewed extent of either the selected county or the selected bed:
Coal Boreholes
Coal Thickness
Coal Quality